Here are some steps that you can follow to create your Meesho account.
Creating a Meesho Seller Account
Products Listing
Getting Orders
Shipping & Product Delivery
Payment
Creating Seller Account:-
• Visit the meesho.com
• Click on Become a Supplier at the top right of the screen.
• It'll direct you to the registration page, fill the details and then click start selling.
• Then Meesho Supplier panel will open, and you will have to enter the OTP you received in your number. Also, add your email.
• For enabling notifications from the app, click the checkbox "I want to receive important updates on Whatsapp section". Then hit the Create Account button.
• To sell products on Meesho, you will require GSTIN and Bank account
Meesho Products Listing:-
Now, we will list products we want to sell on Meesho.
To upload your product list, login to the Meesho Supplier Account. With Meesho, you can upload products in Bulk or Single Catalogs.
Add New Catalog In Bulk
On the homepage of the Meesho's Panel, click on Catalogs Upload.
Click on Add New Catalog in Bulk, select your product category in the search box and select your category from the drop-down list.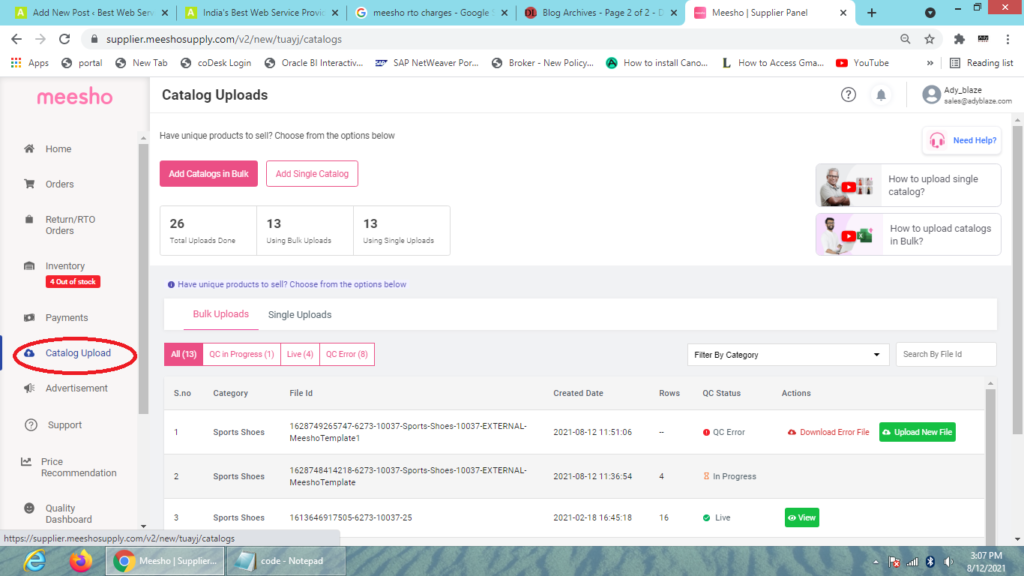 Select a category, and download a template or may create your own. Click on Download Template if you don't have your own. The templates are in excel format.
Fill out the form, follow the instructions provided in first sheet and enter the product details in the second sheet. In the first column, enter your businesses name. From column 'D,' enter the product details. Fill in all the columns as instructed.
Fill out the template below. Once you've finished, go back to the supplier page you downloaded the template. Click on Upload the file, and make sure that it's selected.
Add Single Catalog
On the Meesho supplier home page, click on Catalogs upload
Click on Add Single Catalog
Select your product category from the list provided.
Upload three to five product images.
Add product details. If you have the same product in various colors, don't bother to enter, information for each colour. Simply check the checkbox Copy input details to all products and edit the product's color details according to what needs to be changed.
Fill out all the necessary details and click on Submit Catalog.
To get more orders, you should create more catalogues:-
For example, if you're selling women's, men's and children's clothing, you can create a catalog with different categories. Include product details such as material, color, size, weight, price information, etc. Add a minimum of three images of your products. A self-descriptive catalog will boost your sales and make your sales process easier.
The next step is to share your product on various social media platforms. You can share your products on WhatsApp, Instagram, Twitter or Facebook, or any other social media platform that best suits your brand and customer demographic. It can be your zero cost ad, or we can go for paid promotion as well.
Getting Orders:-
Getting orders is the toughest part. You can create as many seller accounts as you want and list all your products, but it will not matter if you do not start getting orders. You need to start getting sales. 
To receive orders, you need to:
• Add more catalogs: Keep your customers engaged by uploading at least five to seven catalogs. As you upload more catalogs of new designs or products to Meesho, your chances of getting more orders will increase.
• Fast delivery: Meesho offers fast-track dispatch program for better user experience. Sellers can use its Next-Day Dispatch (NDD) service, which promises that the order will be shipped the day after it is received. If your products qualify for the NDD program, you can experience a 12% increase in customer interest.
• Affordable selling price: Meesho provides a price comparison tool to help you determine the fair price. How can you attract customers? Comparing your price with the market demand with the help of Meesho Price Recommendation Tool is a great way to determine the right price and sell faster.
Shipping and Order Delivery:-
Meesho will send you notifications via email and your supplier panel when you receive the order. All you have to do is accept the order. Then you can get orders quickly by going to the supplier panel.
Shipping of Meesho is a hassle free process. You don't have to ship the product yourself like on Amazon or eBay. With Meesho, you can have your products delivered in no time through Meesho's logistics partner.
After accepting the order, you can now download the label and manifest from the supplier panel. Now it's time to package the product.
Simply stick the label on the packaging. Meesho delivery team will arrange shipping for you at no extra cost! In this way, Meesho is facilitating the growth of businesses.
Payment
For each order, whether it is using offline payment methods like COD or online, you get paid on 15th day from the date of delivery. You can view more information about your payments, such as future payments and deposits, on the Suppliers panel.
Read Our Other Blogs:- How to sell on Amazon?